Louise Dropper Post Harness
Louise Dropper Post Harness
A stable, lightweight harness. Good for dropper posts and normal seat posts.
The harness supports a 5 — 10L removable dry bag. Carefully shaped plastic keeps your dry bag protected and stable.
It weighs a tiny 170g (6oz). When paired with the recommended Ortlieb 7L dry bag the complete system weighs 224g (7.9oz). Pack your dry bag off the bike and slide it in loaded.
A gentle but firm grip on your seat post or stanchion
The harness is connected to your seat post with a Voile Nano strap around a rubber ring. This keeps the harness steady and does not harm your stanchion. Think of it like a loving hug.
Use your favourite 5–10L dry bag
The harness is designed to work very well with the Ortlieb PS10 7L dry bag. We recommend this as a lightweight, durable option.
The harness also works with slightly larger dry bags, like the Alpkit Airlok Xtra 13L. Although the shape is tailored to slightly smaller volumes. If you're after indestructible dry bags look at the Ortlieb PD490 range.
Maybe you've got a local maker of dry bags that you like to support - that's cool too.
See how the harness rides
Works well with the Wolftooth Valais
The Wolftooth Valais is an elegant product that fits on your seatpost and reduces your dropper travel.
This is great for the shorter legged riders among us and helps avoid the bag buzzing the rear tyre. 
If you do accidentally buzz the tyre the Louise harness protects your dry bag, and the smooth plastic won't beat your tyre up either.
Carry about 2kg of gear
We often carry a lightweight sleeping bag, sleeping mat, spare undies, socks and a long sleeve merino top.
This weighs about 1.7kg and fits snuggly in an 8L Dry Bag. Keeping your load light will help keep your dropper post going uppy downy too.
About 180mm / 7" needed between seat rails and rear tyre
The harness supports different dry bags, which means you can choose smaller or slimmer dry bags to better fit your bike.
As a good guide though, we recommend 180mm between your rear tyre and seat rails. This allows you to use most dry bags in the 5 — 10L range.
You'll need about 50mm of exposed seat post to attach the harness.
Installing the harness. No tools needed.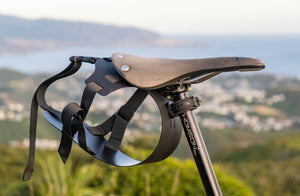 Louise Dropper Post Harness
Sale price Price $99 NZD Regular price
Tax included.
Who's Louise?
Louise Sutherland is from New Zealand and is the most inspirational rider you've never heard of. She was the first in the world to ride the Tranz-Amazon Highway through the jungle and clocked up over 60,000km in 54 countries.
She also raised over $200,000USD to provide two mobile medical clinics in the Amazon.
Thank you to the Sutherland family for letting me name the product after Louise!